Yesterday was the 34th Annual Restaurant Festival which I haven't been to in years. I always liked it, but as the years go on the place has been packed and I had no interest in trying to maneuver one or more strollers through the crowds. I wanted to try it out again when I heard it had opened up a second street, but just never made it.
This year, my daughter was invited to join the Chester County Ballet at Harrison's Dance Studios. That meant that she was part of the 2 hour performance and demonstration that Harrison's hosts on the court house steps every year. I still had my doubts about the atmosphere and the baby, but I was pleasantly surprised by how calm and laid back the whole things was.
I wish that I could have gotten to see more of it. As the dance mom, I am pretty much stationed wherever my daughter is, but the family got to roam around a bit and I sampled a few goodies in between performances 🙂
Since we were there early for dance prep, we did see lots of things being set up without all the crowds and I was impressed by the organization, safety precautions and availability of law enforcement and helpful volunteers. My son visited all the tents that had freebies and came home with a boatload of stuff. Crazy stuff. Tool kits, hats, a full set of Crayola markers, etc… We call him "The Collector of Small Things" so this was his favorite part.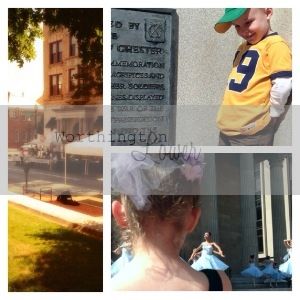 8 Things to have with you at an event like the Restaurant Festival:
1.Cash
2.Hand Sanitizer
3.Roomy, but light, bag or backpack
4.Sunglasses
5.Sunscreen
6.Hat
7.Water
Got Kids?
8.stroller with storage or carrier to strap baby on you
We had everything but the sunscreen. I am as fare as they come, but I neglected sun block. We all got a little pink :/
It was beautiful day and we had a great time. I will be there next year! Will you?